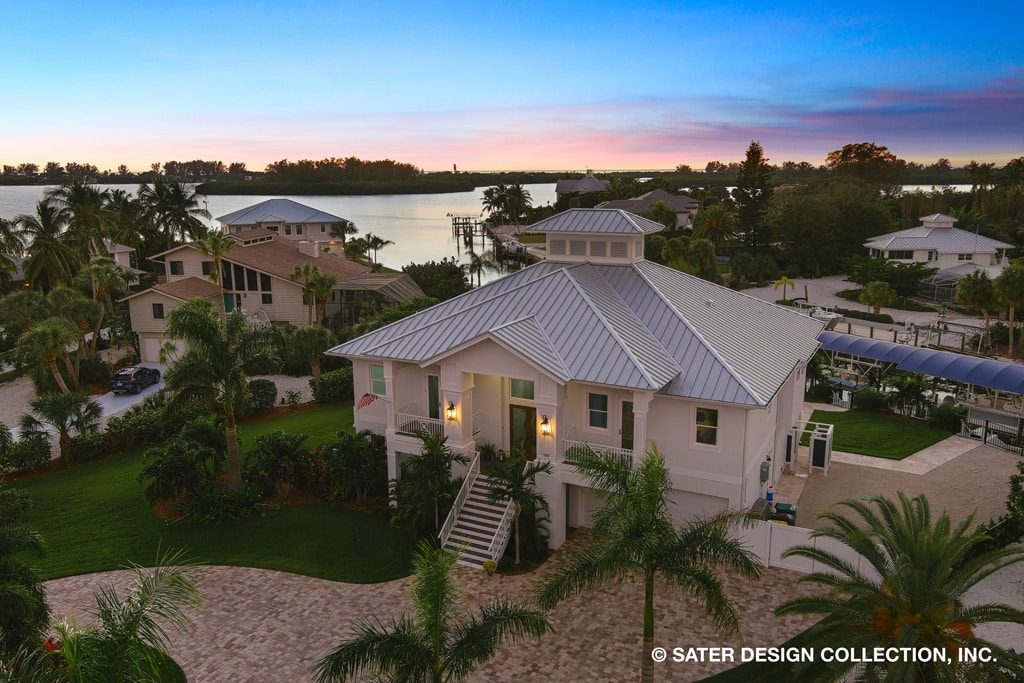 2543 sq. ft. Total Living | 4 Bedrooms | 3 Full Baths
This Beach house has all the features you are looking for, including having a drive-under garage which maximizes the space taken up on your lot.
The open floor plan is centered around the great room with its coffered ceiling. The large kitchen island is the perfect place for quick meals or just gathering in small groups and having a snack. Everyone will enjoy the large walk-in pantry located right off the kitchen. And with the dining area next to the kitchen everyone will feel included in the festivities, even the chef.
The laundry room is strategically located between two of the three guest suites. While two of the guest suites share a bathroom, the third one gets its own private bath, making this design ideal for a multi-generational home.
Every home should have a home office, as this plan does. More and more people are working from home and this trend will continue far into the future. While any room could be converted into an office, it is always best to have this space designed specifically for this purpose from the start.
The large master suite features a bedroom that has access to the expansive rear deck. There are very generous his-and-hers walk-in closets and a very luxurious master bath. The large soaking tub is where you will want to unwind every night. But the walk-in shower is a perfect substitute if you don't have the time for a long soak.
The lower level really makes this design unique. Not only do you get a 2-car garage, but you get an incredible amount of storage. In coastal locations most homes are required to be elevated. However, if you build this home inland, you are free to convert this space into living areas, which is ideal for an area where you do not have the land for a detached garage or shop. You will have all the room you need under your house for almost anything you want to do.
This house plan is an ideal Beach House but it is so much more. We are sure it can be your dream home no matter where it is built. However, if you want to make modifications, we can do that as well.
← Back to all Lifestyle Floor Plans