Is a bathroom remodel in your future or are you working on what type of bathroom you want in your custom-built home? Need a little inspiration? Vertical | Design + Build is excited to share some different bathroom design trends that you may want to consider for your new bathroom.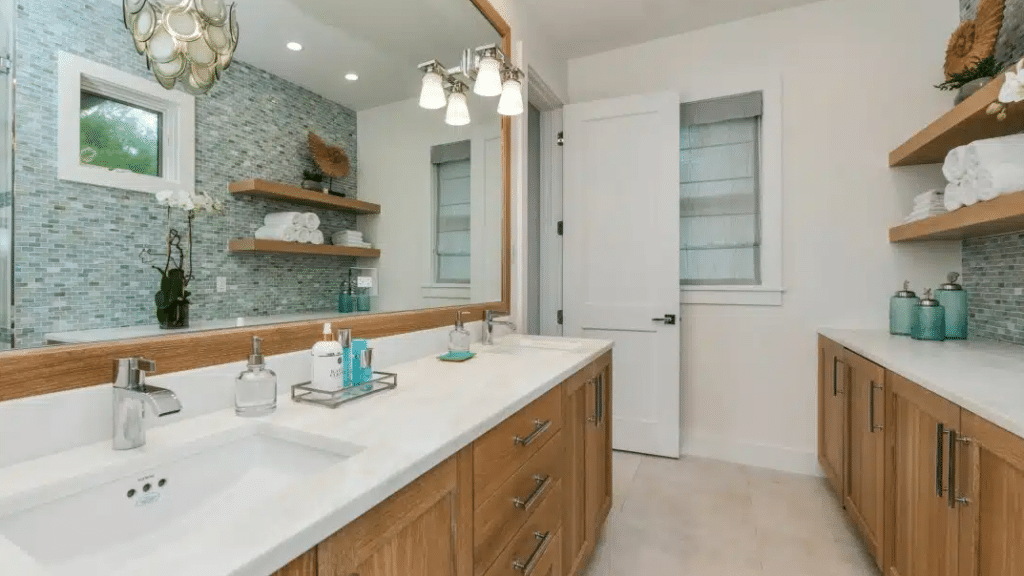 Quality Sustainable Materials
With Vertical | Design + Build, quality sustainable materials are always a priority for us. Not really a trend but rather a constant. When it comes to selecting materials for your bathroom, we encourage you to select materials high in quality. Consider porcelain tiles, high-quality woods, and metals for your bathroom.
At-Home Spa & Wellness
Creating a bathroom that focuses on wellness is becoming increasingly popular among homeowners. Whether you want a stress-free zone with a bathtub that you can soak your stress away in. Or maybe you enjoy the benefits of a steam shower that can reduce muscle soreness after a good workout. It is best that you incorporate one that you will utilize the most. Also, think about areas to store skincare products that work well with the flow of the bathroom and that would be easily accessible to you when you are ready to start your skincare routine.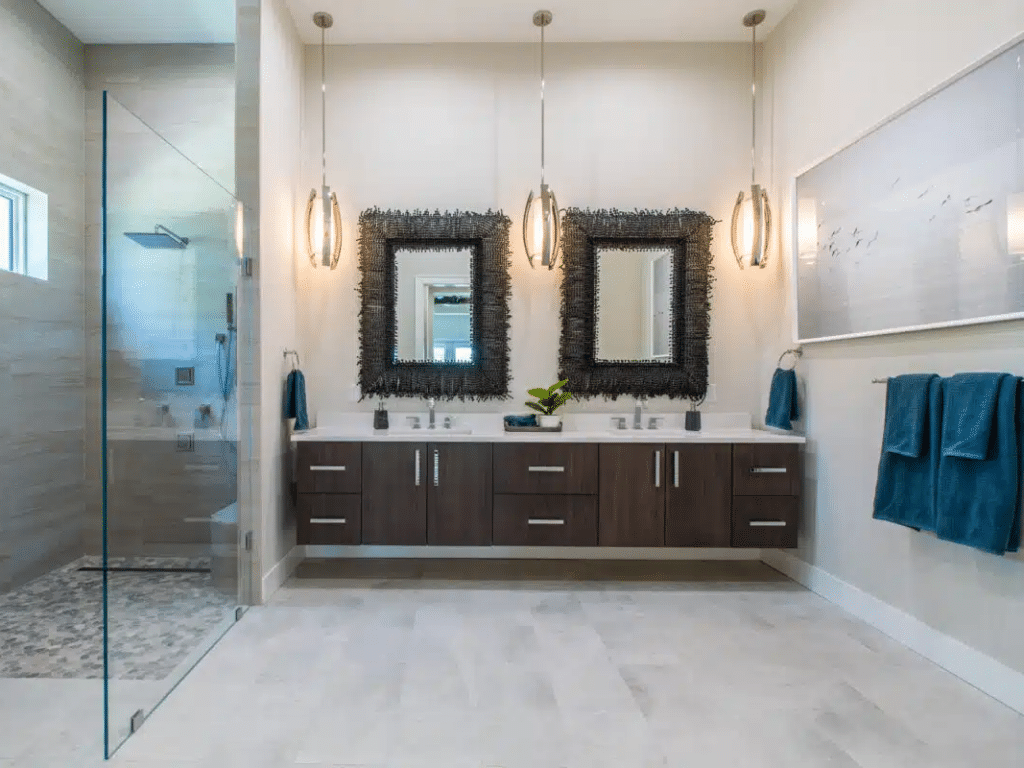 Adding Drama
We see a little more drama incorporated into the bathroom lately. This is where you can really have some fun! It can be anything from adding vanity mirrors that stand out, a pop of color on the walls, or wallpapering one of the walls for a nice dramatic effect. There are so many options you can play around with.
Vertical Lines
Maybe you would like to have something that creates interest in the bathroom without being overly dramatic. You can get a little vertical. With vertical lines that is. We are seeing this in various ways. You can add texture or interest to your walls by adding evenly spaced vertical strips of wood to give it an earthy, spa-like feel. Or you may find cabinets that have a vertical pattern or reed design, similar to the one in the pool bath of The White Elephant.
Statement Or Free-Standing Bathtubs
Bathtubs can make for a favorable focal point in the bathroom. Especially if they make a statement. If making a statement isn't that important to you can also obtain a different aesthetic benefit with a sleek free-standing bathtub. Having a free-standing bathtub creates a luxurious feel in the bathroom. Wouldn't you agree?
When you are working with any design+build firm or design team – keep in mind functionality, and sustainable materials, and add your sense of style in various ways. The options are almost endless on how to design a bathroom.
We hope you find these tips helpful and whenever you are ready to live in your very own luxury custom home – give Vertical | Design + Build a call.